Watch the recordings of the live-streams and look out for audio recordings of the rest of the sessions, to be released on the Socialism podcast feed in the coming weeks!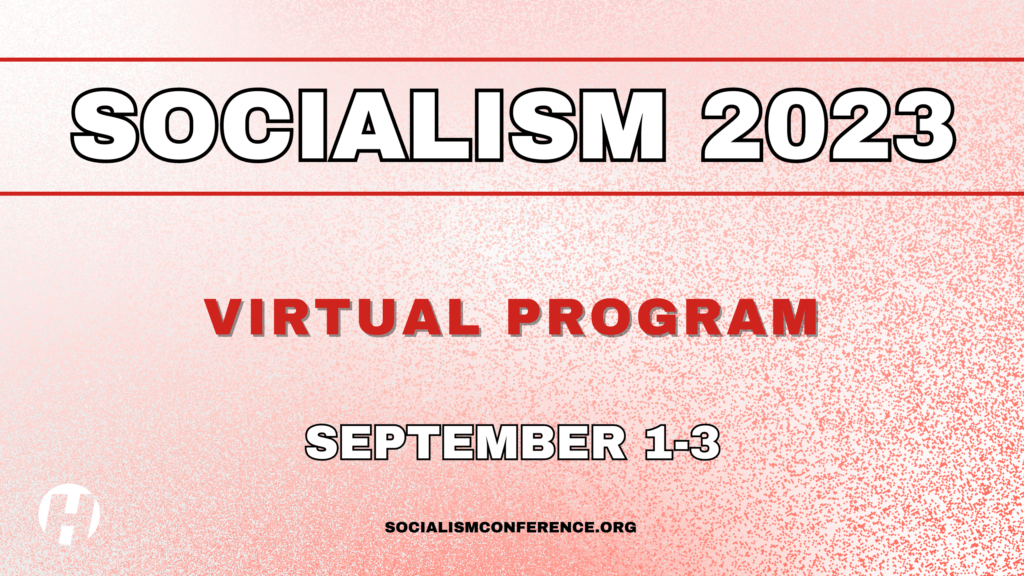 Socialism Conference Virtual Program:
See the full Youtube playlist here
---
Friday, September 1st
(all times are in Central Daylight Time)
5pm-6:30pm: How do we Imagine Socialism? with Danny Katch
5pm-6:30pm: Care: The Highest Stage of Capitalism with Premilla Nadasen and Jessica Stites
8pm-9pm: Abolition. Feminism. Now. Opening Plenary with Angela Y. Davis, Gina Dent, Erica R. Meiners, Beth E. Richie
---
Saturday, September 2nd
(all times are in Central Daylight Time)
9:30am-11am: Ella Baker and the Black Freedom Movement with Barbara Ransby and Asha Ransby-Sporn
11:30am-1pm: Fighting for Our Lives: Abortion and Trans Rights Under Attack with Mary Bowman and Anne Rumberger
11:30am-1pm: Sex Work, Policing, and Border Abolition with Harsha Walia, Chanelle Gallant, Elene Lam, and Robyn Maynard
2:30pm-4pm: The Political Economy of Debt and Debtor Organizing with Lindsey Muniak, René Christian Moya, and Astra Taylor
2:30pm-4pm: Resisting Carceral Sanism with Liat Ben-Moshe, Leah Harris, and Beatrice Adler-Bolton
4:30pm-6pm: Union Democracy: The Power of a Democratic Labor Movement with Alex N. Press, Sean Orr, Terri Houldieson, and Quentin Washington
4:30pm-6pm: Abolition and the Nuclear Age with Josh Frank, Ray Acheson, and Janene Yazzie
7:30pm-9pm: The Poetics of Social Movements with aja monet and Robin D.G. Kelley
7:30pm-9pm: Fascism: Past, Present, or Future with Alberto Toscano and Ilya Budraitskis
---
Sunday, September 3rd
(all times are in Central Daylight Time)
10:30am-12pm: The Far Right, Border Abolition, and Anti-fascism in Crisis with Brendan O'Connor
10:30am-12pm: Doing More With Less / Asymmetrical Struggle with Olúfẹmi O. Táíwò, Astra Taylor, and TBD
1:30pm-3pm: Legitimacy, Accountability, and Belonging in the U.S. Settler State with Dina Gilio-Whitaker
1:30pm-3pm: SunDDay School: The Spirit of Socialism with Dream Defenders
3:30pm-5pm: Abolition Communism with Robin D.G. Kelley and Ruth Wilson Gilmore
3:30pm-5pm: A.I. and Creative Labor with Ben Davis
7:30pm-9pm: The Conspiracy Is Capitalism: Making Sense of the Paranoid Right — and the Tasks of the Left with Naomi Klein
---
Making sure that conference sessions are accessible to folks who aren't able to join us in person is very important to us—but it also comes with a hefty price tag.
While the entire live-streamed program will be available for free on Haymarket's YouTube channel, please consider RSVPing for our Socialism 2023 virtual program and making a donation to help us cover the associated costs!
Please tune in on September 1st, 2nd, and 3rd and spread the word on social media, using the hashtag #Socialism2023.
Live captioning will be provided for all live-streamed events.
*** Please note: RSVPing for our virtual program does not grant entry to the in-person Socialism Conference.